Bacon-Wrapped Cherry Habanero Wings
INGREDIENTS
30 whole wings, or 60 drums and flats (wingettes)
30 pieces of bacon
Peanut or vegetable oil, for deep-frying
For the Wing Sauce:
1 habanero, halved with seeds removed
1 jar (14oz) maraschino cherries
2 limes, juiced
1 teaspoon granulated garlic
1/4 cup cilantro
Salt and pepper to taste
DIRECTIONS
To make the Wing Sauce:
1. Combine all ingredients except cilantro in a blender and purée until smooth.
2. Add cilantro and pulse a few times. Set aside.
To make the wings:
1. Preheat smoker to 250 degrees. If you buy the wings whole, you'll want to remove the wing tip, and separate the drumette from the flat.
2. Cut the bacon in half crosswise.Take half a piece of bacon, stretch it out a little bit and wrap the wing with it all the way around, tucking in the end.
3. After wrapping all the wings, smoke for 75 mins.
4. While the wings are smoking, heat the fryer oil to 375 degrees.
5. When the wings are done, remove them from the smoker and, in batches, pop them into the fryer for 2-3 minutes.
6. Once fried, transfer them into a bowl and toss with the sauce. Serve and enjoy!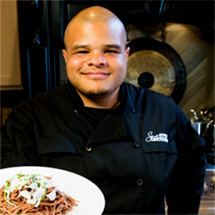 Collins Woods
— Brown Family Chef
Gather around the table as Collins Woods prepares some of the Brown family's favorite recipes. Collins and Zac's shared food history has roots that run deep, reaching back to childhood. To them, nothing is more important than sharing amazing wholesome food with family and friends.

PERFECT PAIRING
---
CHEF'S PAIRING NOTES
This party favorite has a vast array of intense and exciting flavors. A big, gutsy wine like the Uncaged Cabernet Sauvignon helps to tame the heat – while having enough fruit to balance out the sweetness of the maraschino cherries.
---