Boss Cookies
INGREDIENTS
2 cups organic all purpose flour
1/2 teaspoon baking soda, aluminum free
1/2 teaspoon baking soda, aluminum free
12 tablespoons organic salted butter, room temperature
1/2 cup organic light brown sugar
1/2 cup organic dark brown sugar
1/2 cup organic white sugar
1 large egg
1 large egg yolk
1 tablespoon vanilla bean paste (Nielsen-Massey Madagascar Bourbon)
1 tablespoon organic mint flavor, alcohol free (Frontier)
2 cups bittersweet chocolate chips (Ghirardelli 60% cacao)
DIRECTIONS
Preheat oven to 325 degrees. In a bowl, sift together the flour, baking soda, and salt. Set aside. In a larger separate bowl, using an electric mixer, cream together the butter and sugar. Mix in the eggs, vanilla, and mint. Once mixed, add the dry ingredients to the wet and mix until just incorporated. Now using a wooden spoon, mix in the chocolate chips. Roll the dough into ball shapes that slightly under a quarter cup in size. Place the cookies dough balls on a cookie sheet around 1.5-2 inches apart. Bake in the oven for 14-16 minutes, until they are lightly golden brown. If you're not using a convection oven, you'll need to rotate the cookies about half way through the cooking process. If you can resist, let the cookies cool for 5-10 minutes.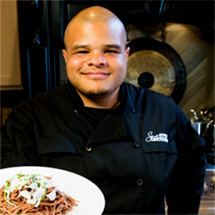 Collins Woods
— Brown Family Chef
Gather around the table as Collins Woods prepares some of the Brown family's favorite recipes. Collins and Zac's shared food history has roots that run deep, reaching back to childhood. To them, nothing is more important than sharing amazing wholesome food with family and friends.
PERFECT PAIRING
---
CHEF'S PAIRING NOTES
Dark chocolate has intense flavors. Depending on the chocolate, you can taste traces of sweet, bitter, fruity, and acidic. So the wine has to be similarly full of flavor to pair well with the chocolate. And the hint of mint really sets these cookies off when paired with wine for dessert. I recommend enjoying these cookies with a glass of the Uncaged red blend. It's rich yet smooth body will boost all of the notes of chocolate, cherry, currant, vanilla, coffee and mint. Your palate will be immensely content.
---