Cozy Bread Pudding
INGREDIENTS
8-10 cups day-old French Baguette cut into 1/2-inch pieces
5 large eggs , beaten
2 1/2 cups milk
1 1/2 cups packed brown sugar
1 teaspoon ground cinnamon
1/2 teaspoon salt
1 Tablespoon vanilla extract
8 ounces chocolate chips (about 1 ½ cups)
½ cup of Z. Alexander Brown Cabernet Sauvignon
DIRECTIONS
Set oven to 350°F and preheat.
Butter a 9"x13" baking dish. In a large bowl, beat together the eggs, milk, brown sugar, cinnamon, salt & vanilla. Place bread in the bowl with the egg mixture and gently toss. Lightly press down on the bread to soak up the liquids. Pour the bread pudding into the prepared baking dish. Sprinkle the chocolate chips over the bread pudding, mixing some of the chips into the bread pudding. Bake for about 45 minutes – 1 hour, or until set and golden.
While the pudding is baking, make the red wine sauce by reducing ½ cup of red wine in a pan over medium heat until it coats the back of a spoon about 2-3 minutes. Stir in the remaining 1oz of chocolate chips and mix until smooth.
Drizzle sauce over the bread putting and serve warm or at room temperature.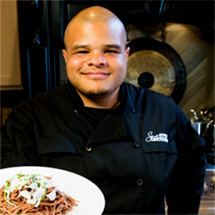 Collins Woods
— Brown Family Chef

PERFECT PAIRING
---
CHEF'S PAIRING NOTES
Come together over bread, wine and chocolate – need we say more? We give you permission to eat dessert first, because you won't be able to resist the ooey-gooey, fresh-from-the-oven bread pudding paired with our Uncaged Cabernet Sauvignon.
---