Zac's Favorite Southern Fried Chicken
INGREDIENTS
6 pieces of desired cut chicken
Peanut oil for Frying
For the Marinade:
2 cups buttermilk
2 eggs
1 bottle hot sauce
Dry Ingredients:
1 tsp celery salt
1 tsp onion powder
1 tsp garlic powder
1 tsp paprika
1 tsp fresh ground black pepper
2 tsp sea salt
2 cups self-rising flour
DIRECTIONS
Whisk ingredients for marinade together. Soak chicken pieces in the marinade, 45 minutes.
Mix all dry ingredients together. Remove chicken from marinade, then dredge the soaked chicken pieces through the dry mixture. Place them on a tray in the fridge for 30 minutes, uncovered, allowing them to dry out for perfectly even browning. Using a deep cast-iron skillet, fill halfway with peanut oil. Bring the oil to 350*F.
Add dredged chicken pieces to hot oil 1" apart, fry in batches if they all don't fit. Cook white meat for 5 minutes per side, dark meat about 6-7 minutes per side. If bone-in, fry bone side down first and don't move the pieces until time is up. Place fried chicken on a paper towel to drain.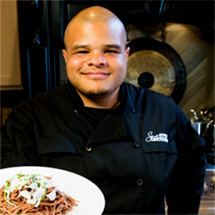 Collins Woods
— Brown Family Chef

PERFECT PAIRING
---
CHEF'S PAIRING NOTES
This Sauvignon Blanc opens with bright aromas of lemongrass, honeysuckle and melon. Tropical flavors are accented by zesty lemon, lime and a hint of jasmine. Refreshing and balanced with a bright acidity, this is the perfect complement to crispy fried chicken.
---