Gourmet Mac & Cheese
INGREDIENTS
1 lb elbow pasta
3⁄4 lb sharp shredded cheddar cheese
1⁄2 lb gruyere cheese, shredded
1⁄2 cup asiago cheese, shredded
1⁄2 cup asiago cheese, shredded
3 tablespoons unsalted butter
3 tablespoons A/P flour
2 cups milk of choice
1 teaspoon onion powder
1⁄2 teaspoon salt
1⁄4 teaspoon dried mustard
1⁄4 teaspoon smoked paprika
Breadcrumb topping:
1 cup panko breadcrumbs
2 tablespoons melted butter
¼ cup parsley
¼ teaspoon smoked paprika
DIRECTIONS
1. Pre-heat oven to 350 degrees. Grease a 9×11" rectangular baking dish. Bring a large pot of water to boiling.
2. Toss all cheeses together in a large bowl, set aside.
3. Melt butter in a medium-sized saucepan over medium heat. Whisk in flour until smooth and bubbly. To this, add milk, onion powder, salt, dried mustard and paprika.
4. Bring to a boil and then reduce to simmer, 3 minutes, and then remove from heat. Stir in cheese mixture until smooth. Cover and set aside.
5. Add pasta to boiling water and cook until al dente, drain and return to pot. Gently combine cooked pasta and cheese sauce.
6. Pour mixture into the prepared dish.
7. Combine breadcrumb topping ingredients and sprinkle evenly on top of prepared dish.
8. Bake at 350*F for 30 minutes or until topping is browned and cheese is bubbly.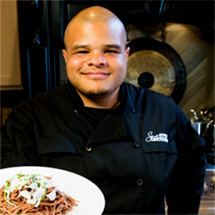 Collins Woods
— Brown Family Chef

PERFECT PAIRING
---
CHEF'S PAIRING NOTES
This Chardonnay exudes bright aromas of white peach, grilled pineapple and Meyer lemon with hints of toasted oak and baking spice. A full-bodied mouthfeel is supported by an acidic undertone, making it a perfect pairing for luxuriously rich Macaroni & Cheese.
---