Mushroom Risotto
INGREDIENTS
6 cups chicken broth (vegetarian chicken broth or vegetable broth may be substituted for vegetarian option)
3 tablespoons olive oil
2 pounds white or portobello mushrooms, thinly sliced
2 shallots, diced
1 ½ cups Arborio rice
½ cup Z. Alexander Brown Chardonnay
⅓ cup freshly grated Parmesan cheese
3 tablespoons chives, finely chopped
4 tablespoons butter
Sea salt
Black pepper
DIRECTIONS
Warm the broth over low heat in a small saucepan
Heat 2 tablespoons of olive oil over medium heat in a large saucepan. Stir in mushrooms and cook until softened. Remove mushrooms and liquid and set aside. Make sure to save
Add 1 tablespoon of olive oil to a skillet and stir in shallots. Cook for 1 minute and add rice. Make sure to coat with oil while stirring and cook an additional 2 minutes. Next, pour in wine and stir constantly until it is absorbed. Drizzle sauce over the bread putting and serve warm or at room temperature.
Add 1/2 cup of warm broth to the rice and stir until it is absorbed. Continue this process by adding broth 1/2 cup of broth at a time, until it is absorbed. Make sure to stir continuously during this process and repeat until all the broth is absorbed, and the rice is al dente. This should take 20-25 minutes
Remove risotto from heat and stir in mushrooms and their liquid. Add the butter, chives, and parmesan and stir it all together for a creamy consistency. Add a finishing touch of sea salt and black pepper to taste.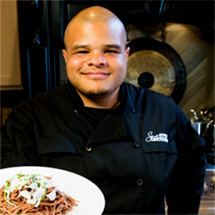 Collins Woods
— Brown Family Chef

PERFECT PAIRING
---
CHEF'S PAIRING NOTES
This Chardonnay is the perfect match for a creamy mushroom risotto. This wine exhibits a bold style with bright acidity and balance.
This Chardonnay expresses juicy stone fruit flavors balanced by a nice acidity for exceptional balance and mouthfeel and gentle spice character, rounded out with hints of vanilla.
---