Red Wine Braised Short Ribs
INGREDIENTS
8 bone-in beef short ribs, 3 inches
1 oz dried porcini mushrooms
3 C Z. Alexander Brown Red Wine
1 C whisky
2 C demi-glace
1 C water
1 T tomato paste
¼ C brown sugar
4 T olive oil
1 pound bacon
1 lb. shallots, thinly sliced
1 garlic bulb, thinly sliced
5 oz fresh shitake mushroom, sliced
8 oz Portobello mushroom, sliced
2 T dried tarragon
2 bay leaf
Salt & pepper
BOUQUET GARNI
10 sprigs fresh parley
8 sprigs fresh thyme
2 sprigs fresh rosemary
2 sprigs fresh oregano
DIRECTIONS
Step 1
Preheat oven to 325°. In sauce pan, combine porcini mushrooms, ZAB Red Wine, whisky, demi-glace, water, tomato paste and brown sugar. Bring to simmer then remove from heat and let sit.
Step 2 (preparing the bouquet garni)
Take the parsley, thyme, rosemary and oregano and either tie it together with butchers twine or tie the herbs together with a long stem of parley. Set aside.
Step 3
Season short ribs with salt and pepper. Add olive oil to Dutch oven and heat to medium/high. Add the short ribs and sear both sides, about 2 minutes/side. Remove short ribs from Dutch oven and set aside. Add bacon and cook until crispy, about 5 minutes. Turn down heat to medium and add shallot, garlic and sauté until translucent, about 4-5 minutes. Add shiitake and portobello mushrooms and tarragon. Continue stirring and sauté for another 3 minutes. Now add the ingredients from the sauce pan, bouquet garni and bay leaves to the Dutch oven. Bring to a simmer. Put the lid on and place in the oven. Cook for 2 hours.
Step 4
Remove from oven. If you'd like you can skim off any excess fat. Remove the meat and let rest for 10 minutes. Remove the bouquet garni and bay leaves. If necessary, reduce the red wine mushroom mixture to desired thickness. Season with salt and pepper to taste. Place meat on plate and ladle the red wine mushroom sauce over the meat for a delicious presentation.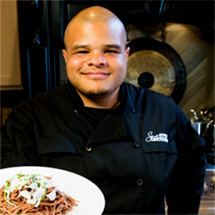 Collins Woods
— Brown Family Chef
Gather around the table as Collins Woods prepares some of the Brown family's favorite recipes. Collins and Zac's shared food history has roots that run deep, reaching back to childhood. To them, nothing is more important than sharing amazing wholesome food with family and friends.
PERFECT PAIRING
---
CHEF'S PAIRING NOTES
These braised short ribs are sure to be one of your family's favorite comfort foods. Slowly cooking the meat in a Dutch oven releases incredible flavors and fall off the bone tenderness. The Uncaged wine infuses complex flavors into the meat and provide a base for a rich, savory sauce. Paired with any Z. Alexander Brown wines this dish is really exciting for your palate.
---