Ribeye Tacos
INGREDIENTS
2 boneless, grass-fed Ribeyes
Salt, pepper and granulated garlic, to taste
2T grass-fed butter, for the skillet
12 homestyle tortillas
CHIMI:
1/2 cup balsamic vinegar
1/2 cup extra-virgin olive oil
1 tablespoon lemon juice
1 teaspoon kosher salt (or TT)
6 garlic cloves, minced
1/4 cup shallot
1/2 cup red onion, small dice
1 jalapeño, core/seeds removed, small dice
1/4 cup fresh oregano
1/4 cup fresh basil
1/4 cup fresh flat-leaf parsley
2 tablespoons fresh tarragon
2 tablespoons fresh mint
GARNISH:
3 cups red cabbage, very thinly sliced
Juice of half a lime, use other half as wedges
Salt & Pepper, to taste
DIRECTIONS
The cooking method for the ribeye is called a reverse sear. Preheat the oven to 250°F. Season the steak with salt, pepper, and garlic. Cook on a baking stone or pan in the oven for 45 min, or until the internal temperature of the meat reaches 120°F. While the meat cooks, prepare the chimi. Dice and mix all of the ingredients in a bowl, and set aside. Slice the cabbage, season with salt, pepper, lime juice, and set aside. When the steak is finished, take out of the oven and let rest for 5 minutes. While the meat rests, on the stove on high heat, bring a cast iron skillet to very hot. Put a little butter in the pan and sear steaks for 1 minute per side until a dark brown crust forms. Remove from pan and let rest for 10 minutes. While the meats rests, warm your tortillas. Slice the meat and serve for tacos.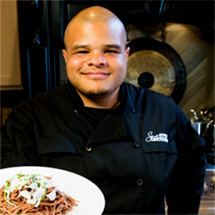 Collins Woods
— Brown Family Chef
Gather around the table as Collins Woods prepares some of the Brown family's favorite recipes. Collins and Zac's shared food history has roots that run deep, reaching back to childhood. To them, nothing is more important than sharing amazing wholesome food with family and friends.

PERFECT PAIRING
---
CHEF'S PAIRING NOTES
This dish paired with the Uncaged Cabernet Sauvignon takes your palate on a pleasantly intense flavor excursion. The variety of aromatic flavors in the balsamic and herb chimi, the tender earthy and umami from the ribeye, and the hints of dark fruit and pepper from the wine, all really compliment one-another very well, giving your palate a flavor fiesta.
---