Roasted Brussel Sprouts and Yams
INGREDIENTS
1 pound brussels sprouts, stems removed/cut in half
2 medium yams, peeled and cut into 1-2 inch pieces
¼ C brown sugar
2T red wine vinegar
½ t cumin
½ t paprika
cayenne pepper
olive oil
salt & pepper
DIRECTIONS
Preheat oven to 400 degree. In a bowl, add brussels sprouts and yams and drizzle with olive oil and seasons with salt and pepper to taste. Spread out on baking sheet and roast for 30-40 minutes until browned and cooked all the way though. Mix remaining ingredients in a bowl. Once vegetables are cooked, add them to the sweet and spicy mixture and gently toss until all the vegetables are evenly coasted.
Serve hot right away and enjoy!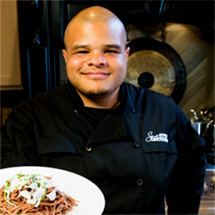 Collins Woods
— Brown Family Chef
Gather around the table as Collins Woods prepares some of the Brown family's favorite recipes. Collins and Zac's shared food history has roots that run deep, reaching back to childhood. To them, nothing is more important than sharing amazing wholesome food with family and friends.
PERFECT PAIRING
---
CHEF'S PAIRING NOTES
This dish takes a classic Southern vegetable and kicks it up a few notches. Roasting the Brussel sprouts and yams in the oven brings out an earthy, nutty flavor. The variety of spices and sweetness from the brown sugar are a perfect complement to the Uncaged Proprietary Red Blend. And one of the great things about this recipe is that it can be made ahead of time, and reheated in the oven in no time.
---