Smoked Beef Tenderloin Sammiches
INGREDIENTS
1 whole beef tenderloin (10-11 pounds untrimmed or 8-9 pounds trimmed)
16 potato hamburger buns
1/2 cup brown sugar
1/4 cup sea salt
1 tablespoon granulated garlic
1 tablespoon paprika
1 teaspoon dried tarragon
1 teaspoon dried parsley
1/2 teaspoon cayenne pepper
Butchers twill
DIRECTIONS
To prepare the beef tenderloin:
1. Trim the beef by removing the chain (side muscle), silver skin, and big chunks of fat, but keep the tenderloin whole. (Alternatively ask the butcher to do it for you).
2. Mix the brown sugar, salt, garlic, paprika, tarragon, parsley, and cayenne together. Then rub the entire tenderloin with the mixture.
To truss the beef tenderloin (tying it with butcher's twill):
1. Preheat smoker to 275 degrees.
2. Take the small part of the tenderloin and tuck it underneath the meat, about half the distance of the tenderloin, so that the entire piece looks even. Then truss the meat by tying into together.* This ensures that the meat cooks evenly and you get similar size portions. Set aside and let come to room temperature while the smoker finishes preheating.
3. Smoke the tenderloin for 1 hour on indirect heat, then increase the heat to 400 degrees and cook for another 15 minutes, still on indirect heat.
4. Once the tenderloin reaches 125-130 degrees, remove and let rest for 15 minutes, slightly covered with foil.
5. When you're ready to make your sammiches, toast the buns on the grill, then slice the meat in 1/4 inch thick slices. Build your sammiches with a few slices of meat and a pile of the pocket knife slaw. Serve and enjoy!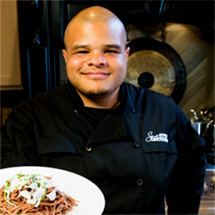 Collins Woods
— Brown Family Chef
Gather around the table as Collins Woods prepares some of the Brown family's favorite recipes. Collins and Zac's shared food history has roots that run deep, reaching back to childhood. To them, nothing is more important than sharing amazing wholesome food with family and friends.
PERFECT PAIRING
---
CHEF'S PAIRING NOTES
This powerful, rich dish begs for an equally full-bodied wine. Sumptuous beef tenderloin plays off the tannins in the Uncaged Cabernet Sauvignon, making for the ultimate crowd-pleasing dinner.
---