Smoked Wine'n'Beer Bratwursts
INGREDIENTS
16 bratwursts
16 potato hotdog buns
1/2 head red cabbage, stem/core removed and thinly sliced
1 red onion, thinly sliced
1 yellow onion, thinly sliced
1 white onion, thinly sliced
1 fennel bulb, thinly sliced
2 red bell peppers, thinly sliced
3 cups Z. Alexander Brown Uncaged Proprietary Red Blend wine
1 Stout beer
1/4 cup brown sugar
1 tablespoon caraway seeds
Salt and pepper, to taste
HERB AIOLI: (make a day ahead)
1 cup mayonnaise
1 teaspoon granulated garlic
1 tablespoon thyme, fresh
1 tablespoon parsley, fresh
1 tablespoon chives, fresh
2 tablespoon rice vinegar
1/2 cup prepared horseradish, strained
Salt and pepper, to taste
DIRECTIONS
Preheat charcoal grill to 250 degrees.
Place red cabbage, onion, fennel, and red bell peppers into a foil pan and mix together.
Take the bratwursts and evenly bury them into the veggies.
In a bowl, mix together the wine, beer, brown sugar, caraway, salt and pepper.
Pour the wine/beer mixture evenly over the brats and veggies. The brats should be about half submerged.
Once the grill is ready, place the foil pan (uncovered) directly on the grates in the center. Close grill lid and cook for 20 minutes. Flip all of the brats and nestle them back into the liquid. Close lid and cook an additional 10 minutes.
Increase heat to 350-375 degrees. The pan should start to simmer. Close lid and cook for an additional 10 minutes.
Move the pan to the side of the grill and place brats directly on the grill until lightly charred (about 1 minute). Once charred, you're ready to build your brat!
Take the potato bun and smear some herb aioli on, then add the brat and then a little pile of the veggies. Enjoy!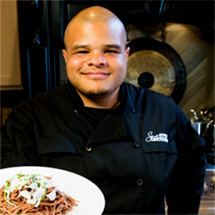 Collins Woods
— Brown Family Chef
Gather around the table as Collins Woods prepares some of the Brown family's favorite recipes. Collins and Zac's shared food history has roots that run deep, reaching back to childhood. To them, nothing is more important than sharing amazing wholesome food with family and friends.

PERFECT PAIRING
---
CHEF'S PAIRING NOTES
Juicy brats are bathed in beer and wine in this satisfying, one-pan dinner. I like to make the herb aioli a day ahead so all of the flavors have time to come together. For a flavorful dish such as this, I'd head straight to a big red. The Z. Alexander Brown Uncaged Cabernet Sauvignon hits the spot perfectly.
---