Uncaged Pasta
INGREDIENTS
1 lb spaghetti
¼ C olive oil
8 garlic cloves, slivers
1 leek
1 zucchini
1 yellow squash
2 C Z. Alexander Brown Cabernet Sauvignon
¾ C bourbon/whiskey
1 T tomato paste
1 T honey
1 T fresh thyme
¼ T cayenne pepper
½ C fresh basil, chopped
½ C fresh parsley, chopped
Pecorino cheese
salt and pepper to taste
DIRECTIONS
Peel squash and zucchini and then slice into long string pieces. Cut off stem and dark green leaf section of leek and then cut in half lengthwise; slice into thin half-moons. Rinse well and set aside with squash and zucchini.
Add spaghetti to salted boiling water and cook for about 8 minutes or until pasta is a dente (almost done). Drain pasta.
Heat large sauté pan to medium and add olive oil, garlic and leeks. Sauté for 2-3 minutes stirring occasionally. Add wine, bourbon, tomato paste, honey, thyme, and cayenne pepper. Bring to medium-high heat and let cook for about 3 minutes.
Add pasta to skillet stirring often until most of the wine is absorbed, about 3 minutes. Add squash, zucchini, basil and parsley. Reduce to low heat and mix thoroughly. Garnish with cheese and serve.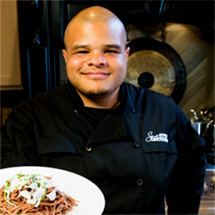 Collins Woods
— Brown Family Chef
Gather around the table as Collins Woods prepares some of the Brown family's favorite recipes. Collins and Zac's shared food history has roots that run deep, reaching back to childhood. To them, nothing is more important than sharing amazing wholesome food with family and friends.

PERFECT PAIRING
---
CHEF'S PAIRING NOTES
This pasta dish has very unique and exciting flavors. The notes of light and dark fruit from the wine fused into the pasta, the earthy and slightly sweet aromatics, and the daring spice that comes through at the end of the bite, all surprise your palate in a new and exciting way. Enjoy this dish with any of the Uncaged wines. Each wine will awaken and intensify different flavor profiles.
---